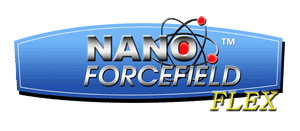 THE NEXT GENERATION IN EXTERIOR/INTERIOR VEHICLE PROTECTION
WHAT IS NANOTECHNOLOGY?
Nanotechnology is the manipulation of particles on a sub-molecular level to achieve a specific result. Nanotechnology is friendly in that it is mechanical versus chemical. In the case of sealants, nanotechnology also reduces the need for environmentally harmful cleaning products.
Nanotechnology is sometimes referred to as a general-purpose technology. That's because in its advanced form it will have significant impact on almost all industries and all areas of society. It will offer better built, longer lasting, cleaner, safer, and smarter products for the home, for communications, for medicine, for transportation, for agriculture, and industry in general.
What is most important to understand when trying to comprehend nanotechnology is that it is MECHANICAL. So unlike a chemical or a medicine, this technology is acting mechanically on a molecular and sub-molecular level. This is also the main reason it is considered green.
Although the outcome of nanotechnology may look to the naked eye like a medicine or chemical, it is important to remember that we are manipulating particles to do a specific job on a sub-molecular level.
One you fully understand the MECHANICS of what is taking place in order to achieve the desired effect, you truly understand nanotechnology.
THE NANO FORCEFIELD FLEX APPLICATION
Once you have chosen the Nano ForceField Flex or the Ultra Nano ForceField Flex program, Courtesy's trained staff will apply the following to your vehicle:
NANO EXTERIOR PROTECTION:
Exterior Protection will be applied by hand to the paint of the vehicle. This will include bumpers and headlights. Exterior Protection is NOT applied to the tires or the rims.
NANO GLASS PROTECTION:
By choosing the Nano Glass Protection, the Exterior Protection is applied to all of the exterior glass, including the windshield.
NANO INTERIOR PROTECTION:
Interior Protection will be hand applied to all applicable carpet, leather, and upholstery surfaces inside your vehicle
Once your application is complete, you may drive your new vehicle with no concern. The application will take 24 hours to completely cure, but is effective from the first moment it is applied.
THE NANO FORCEFIELD FLEX POLICY
NANO FORCEFIELD COVERAGE:
Nano ForceField Flex professional application

Insured protection against environmental damage to the exterior paint.*

Insured protection against normal stains to the interior.*
OPTIONAL NANO FORCEFIELD FLEX ADD-ONS
WINDSHIELD REPAIR OR REPLACEMENT: Chips and cracks are covered! Any windshield that cannot be repair will be replaced at no charge to you! If the OEM and/or Rain Sensor Option is selected and your windshield needs to be replaced with an OEM and/or Rain Sensor windshield, you will be guaranteed a manufacturer replacement.
INTERIOR RIPS & TEARS: Rips, tears, cuts, and burns will be repaired at no charge when the 386 Nano ForceField is applied to your interior.
DENTS & DINGS: We provide the removal of certain dings and dents from your vehicle when the Nano ForceField is applied to the exterior of your vehicle.
RENTAL CARS: If you require alternate transportation due to a covered repair, this option provides rental car reimbursement during your repair.
ROADSIDE ASSISTANCE: Emergency Roadside Assistance Coverage! Flat tire, jump start, lockout assistance, towing, & emergency gas delivery at no additional charge if you have selected this option.
RIM DEFENSE: Reduce brake dust and make cleaning your rims easier with Rim 850 application! Covers rims against pitting and curb damage for the life of the contract. The Nano Rim product is perfect for consumers that are tired of the time and effort it takes to clean their rims. Nano Rim protection will be applied by hand to the rims of the vehicle by trained professionals at Courtesy. Once Nano Rim is applied, your rims will pick up less brake dust and be much easier to clean. Do not use acid based wheel cleaners on rims treated with Nano Rim. There is no need to use these caustic cleaners to make your rims sparkle like new. Water and a sponge will do the trick!
WHAT TO EXPECT FROM NANO FORCEFIELD FLEX
Nano ForceField Flex will reduce or eliminated the need for soap and other cleaning supplies. This reduction on a large scale will ultimately help protect our waterways from pollution due to runoff.
In the event that you have any questions regarding washing instructions of specific care of your vehicle treated with Nano ForceField Flex, please contact us at Courtesy!
Make an Inquiry
* Indicates a required field
Hours
Monday

9AM - 9PM

Tuesday

9AM - 9PM

Wednesday

9AM - 9PM

Thursday

9AM - 9PM

Friday

9AM - 9PM

Saturday

9AM - 6PM

Sunday

Closed